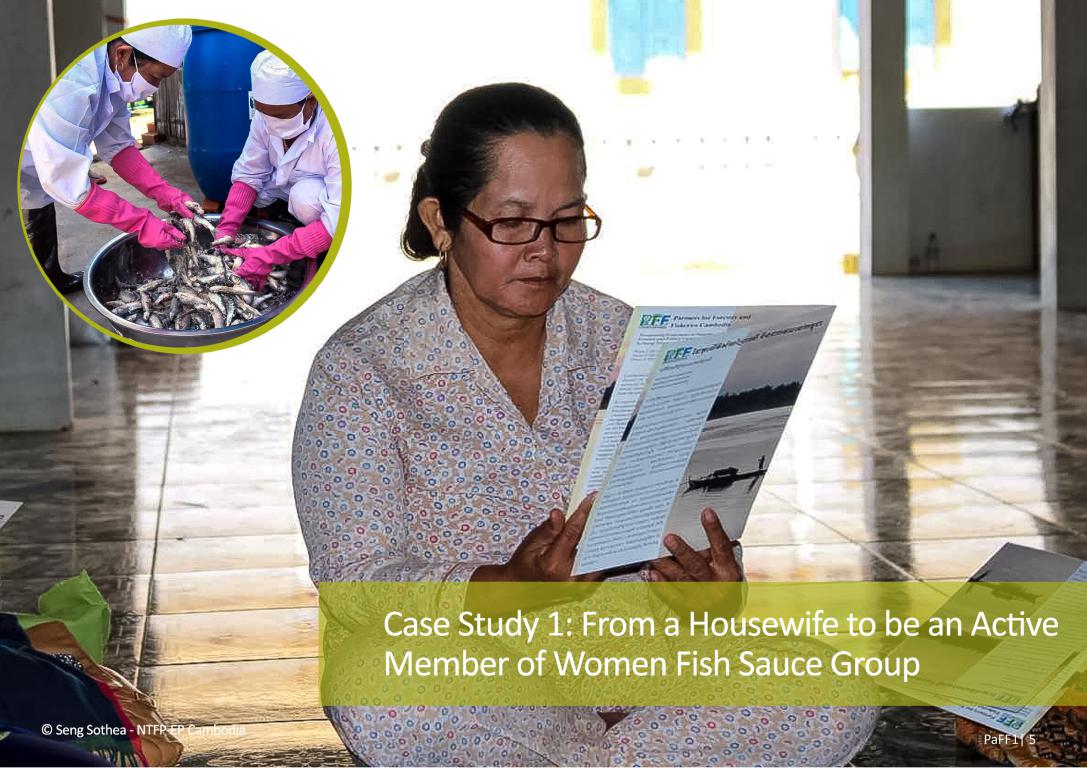 Mrs. Nhon Vannara, aged 53, living in Koh Preah village, Koh Preah commune, Siem Bok district, Stung Treng province is a mother of four children (2 daughters and 2 sons). Her family's livelihood depended on rice production and animal raising. To earn more income to support her children and send them to school, she joined fish sauce enterprise group in late 2012, the time when the group was established by ETEA organization. Group members still run their business despite unstable condition after the phasing out of this organization in the same year. The group has had poor management especially, record keeping, planning, and skills in fish sauce processing, packaging and marketing. Most importantly, the group does not possess proper processing center.
In mid-2015, following the request from this community, PaFF through NTFP-EP came in to provide the support. In 2016, a number of trainings were provided in the form of both formal and on-the-job training including business plan development, book-keeping, product costing, market scanning, report writing, fish sauce processing and quality control. The group took part in two exchange visits to learn about fish sauce processing – one to Kampot in late 2015 and another one to Siem Reap in early 2017.
Materials and equipment including water storing tank, jar, vase, were provided. The processing center was renovated. Fish sauce packaging including bottles and labels were also part of the support. In order to bring the processed products up to standards for the markets, the certificate and license from Provincial Department of Industry and Handicraft, and Provincial Department of Commerce were granted. The by-law and internal regulations and business plan were developed. The fish sauce products are now available at the local market.
"With the support from PaFF, I participated in many courses and those courses have widened my understanding, especially on small enterprise development and management and technical skill on fish sauce processing. Through this knowledge gained, besides of being a member of fish sauce group, I also run my own shop in the village at the early of 2016 to sell grocery, Chinese noodle and pork. My family income increased from 4,600,000 Riels per year in 2015 to around 7,400,000 Riels per year in 2016 and 4,500,000 Riels in the first six months of 2017.